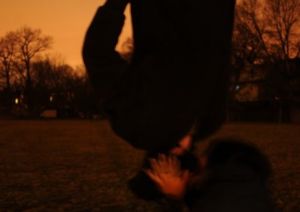 Here you'll find a public archive of our 365 day experiment/challenge to complete 365 things we've always wanted to do but have never done before – like bake a pie from scratch, bungee jump, build a robot, fly a box-kite, churn butter, learn to knit, canoe down river rapids, and kiss upside down like spiderman – to name a few.
This year we've decided to throw the annoying "new year's resolutions" to the wind. Instead, we're committing ourselves to fill each day with a little wonder, excitement and inspiration, simply by doing more of the things that make us happy (and thus, more connected to the world around us).
If you'd like, you can follow our progress here from January 14, 2012 – January 13, 2013 as we check off all 365 items on our to-do list. This blog is meant to keep us on track, organized and accountable. *Special thanks to our family, friends and colleagues for continually supporting our crazy ideas.
____________________________________
Want to start your own 365-day challenge?
We'd love that. Just follow the rules below. Feel free to share your progress with us.
Instructions:
1) Make a list of 365 things you've always wanted to do, but haven't done yet.
2) Do them.
The fine print rules:
*All 365 to-do's must be completed within 365 days
*Multiple to-do's can be checked off within a single day
____________________________________
Press
CBC Metro Morning Radio interview (broadcast on Jan 11, 2013)
Inside Toronto "A year of firsts for Riverside couple" (published Jan 22, 2013)
CTV Canada AM TV interview (aired Jan 9, 2013)
Global Morning Show TV interview (aired Jan 3, 2013)
CTV News TV interview (aired Jan 2, 2013)
Global News TV interview (aired Jan 1, 2013)
Metro News "Toronto couple had year of 365 new firsts in 2012" (published Jan 1, 2013)
The Toronto Star "Toronto Couple Resolved 2012 would be a year of firsts" (published January 1, 2013)
BOLD Magazine "An Unusual Method" (published June 1, 2012)
BOLD Magazine "Belize:What Lies Beneath" (published March 13, 2012)
Global Television interview (aired Feb 23, 2012)
Inside Toronto "Not your typical new years resolution" (published Feb 06, 2012)